Lancashire strikes: Thousands march over pensions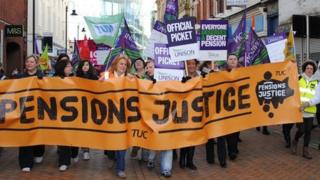 Thousands of protesters have marched across Lancashire over proposed cuts to public sector pensions.
Marches were held in Blackburn, Lancaster, Preston, Blackpool and Burnley.
The strikes also led to the closure of 254 out of the 617 schools across the county, with a further 24 schools partially closed.
Councils said many services had been disrupted, although contingency plans were in place for vulnerable people.
In hospitals, clinical and medical staff are still working, but some non-emergency operations have been cancelled.
The North West Ambulance Service said essential services were being maintained despite the strike action.
Ambulances will be dispatched to those patients who require transport for urgent care such as dialysis, cancer care or other serious illnesses.
Emergency calls will be answered, although the public were encouraged to think carefully about whether they urgently need an ambulance.
Emergencies 'a priority'
A Lancashire Constabulary spokesman said: "In critical areas, like call-handling, police officers - including those on recuperative or restricted duties - will be drafted in to fill any gaps.
"Responding to 999 calls will remain a priority for the constabulary on the day."
Up to two million workers across the country walked out in protest at planned changes to their pensions.
In Preston, the council's offices at the town hall, Lancastria House and Birley Street were closed.
In Blackburn with Darwen, town halls, household waste recycling centres and the markets were open, but libraries were closed. Recycling refuse collections were cancelled until 7 December.
'Need to pull together'
Rubbish collections in Lancaster were affected, with the customer service centres at Lancaster and Morecambe town halls closed, along with the housing offices on Cable Street.
Burnley Council confirmed many of its services were affected, but said key services were being provided.
Wyre Council said half the workforce were on strike, but that remaining staff would endeavour to ensure essential services continued to operate with minimum disruption.
Secretary of State for Education Michael Gove has criticised public sector unions who he said wanted "to provide a platform for confrontation just when we all need to pull together".