Teenage hospital fundraiser Cameron Small awarded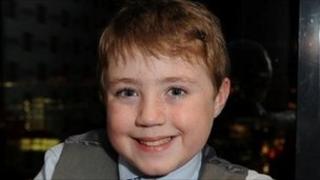 A Lancashire teenager who has raised more than £115,000 to buy equipment for a Manchester hospital has been honoured with a national award.
Cameron Small, 13, who was diagnosed with a rare blood disorder as a baby, has been named the 4Children's family hero in the North West.
He is also a patron of the charity for the Royal Manchester Children's Hospital, where he is treated.
His efforts have funded televisions, computers, books and instruments.
Cameron, from Grimsargh near Preston, began fundraising for the hospital when he was four, when it was based at its former site in Pendlebury.
'Family pressures'
"I knew how boring it was being in hospital and waiting around for treatment and I just thought it would be great if there were more things to keep children occupied, so I just did things to raise money," said Cameron, who is a year nine pupil at St Cecilia's RC Technical College in Longridge.
"I've sat in a bath of baked beans on the village green, done loads of other sponsored events, and raffles and I do really enjoy fundraising.
"Fighting boredom is important to help children recover, and I hope the TVs I have bought will make the poorly children in hospital happier."
Anne Longfield OBE, chief executive of 4Children, said: "Cameron is an inspiring family hero who has transformed his own challenges into providing real help and support to others in tough times.
"He has succeeded in making people aware of how the time spent by children in hospital can create huge pressures on families. Anything that helps to ease the lives of children hospital makes a big difference to the lives of parents as well."