Euro Garages brothers' business growth 'stunning'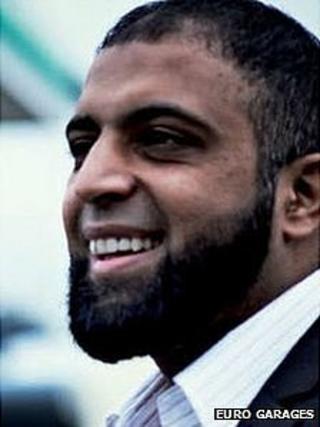 In 2001, brothers Moshin and Zuber Issa took on their first derelict garage forecourt in Bury, revamping the livery and opening "a big shop".
Ten years on, the pair are Managing Director and Chief Executive Officer of Blackburn's Euro Garages, a 73 forecourt-strong company that has a turnover of £300m a year.
Their success - in an era of recession and companies going out of business - is such that the East Lancashire Chamber of Commerce described it as "stunning" and the siblings as "heroes and role models for the aspirational".
Yet, as the business adds a deal to bring drive-through Starbucks coffee shops to their garages, Zuber Issa is at a loss to entirely explain their tale of steady, unceasing growth.
"People ask me how we've done it and when I think about it, we never had a masterplan," he said.
"We could see what was happening [to the industry] and that if the opportunities opened up, we would take them."
'A lot of work'
Forecourts were in the brothers' blood. Their father worked at a garage and Mr Issa said they would spend their weekends with him there.
"We'd go and sit with him when he was doing his shift," he said.
"We always had this kind of love for forecourts.
"When we opened the first one, it was a derelict forecourt and it needed a lot of work on it.
"We thought, let's put a big shop in - I'm not even sure why we thought about doing that but it worked.
"We looked around at the competition and saw no-one else was doing that, so we thought let's go with this."
That decision has proved to be a good one, as alongside increasing profits, their company now employs about 1,000 people.
'Very impressive'
For Michael Damms, chief executive of the East Lancashire Chamber of Commerce, what the Issas have achieved is "stunning for a number of reasons".
"You'd bet against anyone developing retail at the moment and yet they've also done it through that period of oil shocks and the view that people would travel less and cars were passe," he said.
"And you wouldn't have thought that given the huge over-capacity in retail that they would be able to create what is like another successful supermarket.
"Yet against that overall backdrop, they've expanded.
"I don't always carry such torches for businesses, but they've defied conventional wisdom in succeeding.
"It is very impressive, they are a tremendous example and, whether they realise it or not, they are heroes and role models for the aspirational."
'Challenging and competitive'
Mr Issa said success has been down to having a good team spirit - that, and bringing major industry names on board.
"It's been important to get big names involved," he said.
"As we all know, it's challenging in the market today and very competitive.
"The supermarkets are using fuel as a loss-leader to get people on their forecourts, so we had to think how we could compete with those guys.
"As a result, we started working with Spar and now we're one of BP's biggest accounts in the UK and have got Starbucks, Burger King and Greggs.
"These have really helped the stores to be a lot more profitable and not just rely on the fuel.
"When we started, 70% of the profit came from fuel, now it's moved away and it's more like 25% from fuel."
'Can't do everything'
The company has also won industry accolades, the most recent being having their Blackburn flagship garage named as Forecourt of the Year at the 2011 Forecourt Trader Awards.
Mr Issa is happy to take the plaudits, but knows that even as he makes plans for the future expansion of the company, the next 10 years may not be as easy as the past decade.
"The price of fuel is a worry and the whole of the UK market is on the decline as well," he said.
"The number of forecourts is on a decline; it's about 8,500 forecourts as opposed to 19,000 ten years ago.
"There has to be a change in understanding in how the forecourt works and luckily, we've been early to realise this.
"On a daily basis, we're offered sites across the UK and we have to keep control of ourselves and have a plan in place.
"We can't be everywhere and we can't do everything, so we take the careful approach and then move on."