Hairdresser searching for Lancashire's unknown poet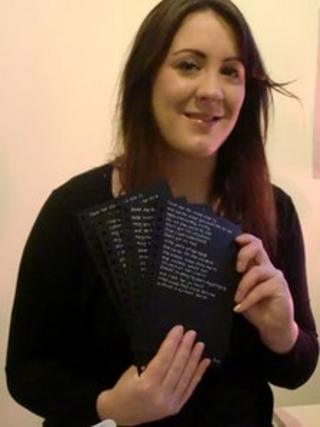 A Lancashire hairdresser has said she would love to meet the writer who has been sending "rather lovely" poetry to her salon.
Seven poems have been sent to Victoria Cunningham's premises in Leyland over three years and though they are signed, the author has not revealed himself.
They were signed, "by the composer, Mark Jones". "We've Googled him and we can't find anything," she said.
Ms Cunningham wants to know whether other shops receive such poems.
They are all written in silver pen on black card and are not addressed to an individual.
"They are sent to the old salon that was here about seven years ago, so I don't know if they are being sent to someone else who used to be here," she said.
"They seem to come randomly.
"The first few that came, we didn't think too much about them and threw them away.
"When they kept coming, we thought there was something strange going on and so we kept them."
Ms Cunningham said she did not think sending the poems was odd and that they contained messages such as "keep your chin up" and "keep smiling".
"We think it's a man, but we don't know," she said.
"He's put a lot of effort into it and the poems are rather lovely.
"The more I keep reading over them, the more I appreciate them.
"I'd just like to know who they are from and if he sends them to other shops as well."