Blackburn Cathedral zone revamp revealed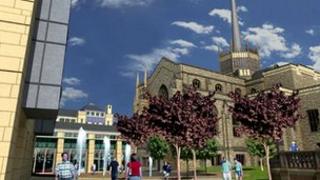 A £30m scheme to revamp the area near Blackburn Cathedral will be discussed by councillors later this week.
The Cathedral Quarter development will incorporate a hotel, restaurants, shops, bus interchange, a clergy court and offices.
The plan, to be discussed at Blackburn Council's Executive on Thursday evening, could transform the town.
Developer Maple Grove, who built the £21m Barbara Castle Way health centre, is working on the design.
The first phase of the Cathedral Quarter development is almost complete - the new Blackburn Youth Zone is due to open in the New Year.
A planning application for the remainder of the development is due to submitted in December and it will be completed in March 2014.
The proposed clergy court includes 11 apartments and houses including a library and diocesan offices.
Dave Harling, executive member for regeneration, said: "The development is part of an ambitious 15-year plan which has already regenerated Blackburn town centre.
"The proposed hotel and offices will result in around 350 jobs and the new bus interchange alongside the railway station will create an impressive gateway to the rest of the town centre. The new public square surrounding the cathedral will be somewhere people can gather and will want to spend time."