Ribble estuary cockle beds to remain closed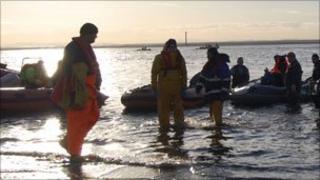 Cockle beds in Lancashire's Ribble estuary are to remain closed into the new year, it has been confirmed.
The North West Inshore Fisheries and Conservation Authority (NWIFCA) passed an emergency by-law to close the beds at Foulnaze Bank on 7 November.
There had been 26 coastguard rescues in the two months after it opened.
NWIFCA reviewed its decision at a meeting on Tuesday but ruled the ban would remain, for cocklers' safety and to preserve the beds.
More than 6,000 tons of cockles - worth £4m - were taken off the beds in the two months that they were open.
Paul Sumner, chairman of Lytham Fishermen's Association, said he and his colleagues were disappointed the beds would remain closed.
He said he felt NWIFCA had not handled the issue well.
"It was out of hand. We don't want a repeat of the chaos [if the beds are reopened]. It needs to be run properly," he said.
'Stronger enforcement'
Dr Stephen Atkins, chief executive of NWIFCA, said: "We have learned a lot in the last couple of months.
"We accept we didn't have the measures in place to deal with this particular fishery on the Foulnaze bed because of its marine nature.
"We have been working with the Marine Management Organisation to create an emergency by-law which will put in place stronger enforcement measures... if we are able to open it."
He said the poor weather and shorter days in December and January meant there was potential for further incidents.
Dr Atkins added the authority had to consider the longer term sustainability of the beds, and that it may be better in the long term for them to remain closed in the coming months.
Scientists will examine the beds in February, to determine the level of stocks and when they would be best reopened.