End of house collapses in Fleetwood due to strong winds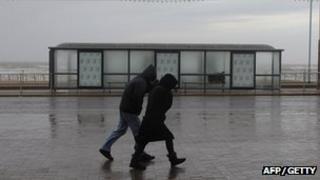 The gable end of a house has collapsed in Lancashire due to strong winds.
Lancashire Fire and Rescue Service was called to the house on Macbeth Road in Fleetwood at about 12:00 GMT when crews made the house safe. No-one was hurt.
It was one of four weather-related incidents the county's fire service attended on Thursday caused by strong winds.
Crews also dealt with loose brickwork from a shop on the corner of Abingdon Street and Talbot Road in Blackpool.
The roof of a building was in danger of blowing off at Fellgate in White Lund in Morecambe at about 10:10 and a tree blew precariously near a house on Gisburn Road in Preston at about 12:30. A tree surgeon then made it safe.
Ratcliffe Wharf Lane in Forton is closed in both directions because of the wind.
A fallen tree caused the disruption between Winder Lane junction and the Faulkner's Lane junction.