Blackpool bomb disposal expert was 'unlawfully killed'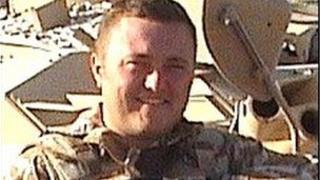 An inquest into the death of a Lancashire bomb disposal expert in Afghanistan has ruled that he was killed unlawfully.
Cpl Loren Marlton-Thomas was killed in an explosion on 15 November 2009 while searching for roadside bombs in Gereshk, in Helmand province.
The 28-year-old from Thornton Cleveleys was serving with 33 Engineer Regiment.
His widow Nicola, mother and other family members attended the inquest at Blackpool Town Hall.
The inquest was told that the soldier's job was to search for Improvised Explosive Devices (IEDs), which have cost the lives of many British soldiers in the conflict.
On 15 November, Cpl Marlton-Thomas was on patrol with his team, which had dealt with one IED and was preparing a safe zone to deal with a second device when a third one exploded killing the soldier.
The blast threw him into a canal. His body was not found for several hours and a search had to be called off at nightfall. The body was found the following morning.
The inquest heard he died due to the impact of the explosion and drowning.
Sgt Maj Ken Bellringer, who was standing next to Cpl Marlton-Thomas when the device exploded, said the pair had been sharing a joke because the soldier was trapped in mud and it was when he tried to pull him out that there was an explosion.