Blackpool promenade wedding chapel opens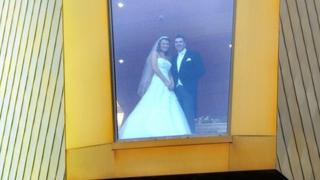 A £3m wedding chapel has opened on Blackpool prom offering couples the chance to get married "almost at sea".
"Festival House" on the People's Promenade also offers "unique views of Blackpool Tower", said superintendent registrar David Hill.
The venue, which will also host civil partnerships, is part of the council's £250m revamp of the resort.
"It's as near as getting married at sea as you can get, there's nothing else like it in the country," said Mr Hill.
The first couple due to marry at the venue, which replaces the registry office on South King Street, conducted the official opening ceremony.
Simon Garrick and Kelly Goudie, from the Fylde, are set to marry on 12 January.
The couple got engaged in 2004 after Miss Goudie walked into the bathroom to find Mr Garrick and their dog, Bobby, each standing on one knee, with the words "Will you marry me?" written in shaving foam across the bathroom wall.
Miss Goudie said: "Being first to be married at Festival House is a fairytale ending to our story. We have both lived in Blackpool our whole lives and we love this town.
"We have visions of our five-year-old daughter Hallie driving past the venue one day with her own children and telling them about how her mother and father were the first to be married there.
"My nan and grandad lived in Liverpool and came to Blackpool on their honeymoon and have visited every year after for their anniversary - and now we're part of Blackpool's heritage and words cannot describe how much this means to us."
The couple have received a sponsorship package as the first couple to tie the knot there.
The wedding venue has two rooms to marry in. The main one is the tower view which caters for 50 guests, while the sea view room caters for smaller ceremonies of up to 14 people.
The building will also have a tourist information centre and restaurant in the New Year.
A public opening weekend takes place at the weekend.