Elizabeth Donnelly admits mother's Preston stab killing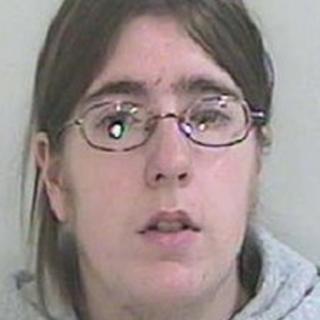 A Preston woman was stabbed to death by her mentally ill daughter, just days after she had refused to let her be taken into care, a court has heard.
Valerie Donnelly, 62, was found with 80 stab and slash wounds at her home in Preesall Road, Ashton, on 25 March.
Her daughter, Elizabeth Donnelly, 27, pleaded guilty to manslaughter at Preston Crown Court.
She was sentenced to a hospital order and will be detained at Guild Lodge secure hospital indefinitely.
She cannot be released without the permission of the home secretary.
Family concerns for the health of Elizabeth Donnelly had led to a police officer trying to encourage her to go to hospital in the days before the killing, the court heard.
But Valerie Donnelly had insisted that her daughter was not unwell and that she did not feel threatened by her.
'Guardian angel'
On 25 March Elizabeth Donnelly walked into her housing office and told a receptionist: "The bottom of the stairs. My Mum is dead."
Police were called to the house and found the victim with wounds to her back, head, face and neck.
A total of 11 knives were recovered from the address.
Donnelly was arrested but was not fit to be interviewed for nearly three months.
The court was told that Donnelly later admitted to police she had killed her mother after she tried to lock her in the house.
Following the attack she went upstairs but returned several times to stab her mother again as she was convinced she could hear noises coming from her.
"She believed that the knives were not doing the job adequately because her mother was wearing some kind of body armour," William Waldron prosecuting said.
"She also claimed that her guardian angel called Femiata was to some degree controlling her actions."
Both her cousin and her father had thought Donnelly was unwell before the killing, which could have taken place on 24 March.
A police officer visited her on 22 March and tried to persuade her to go to hospital but her mother dismissed his worries.
Donnelly, who was known to the mental health authorities, had an appointment arranged with an emergency team for a few days after the killing.
The court heard medical evidence that she had since been diagnosed with paranoid schizophrenia and had had the condition for several years.
Mr Justice Clarke said in the circumstances the killing was "as violent as it was tragic" and Donnelly's responsibility had been substantially impaired by her illness.
He said: "I am satisfied on the evidence I have read that you suffer from a severe mental disorder, paranoid schizophrenia, with symptoms of persecutory delusions and auditory hallucinations which require you to be detained in hospital."
Det Chief Insp Neil Esseen, from Lancashire Police Major Investigation Team, said after the hearing: "This was a tragic crime and such an unnecessary loss of a woman's life.
"Our thoughts are with Valerie's family at this difficult time and I hope today's result will bring them some small comfort as they continue to come to terms with their loss."