Robert Lund trial: lake death woman 'feared violence'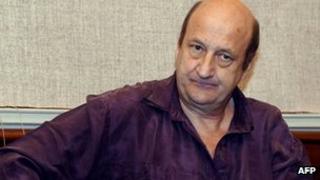 A British woman whose body was found in her car at a lake in France fled her marital home because she "feared violence", a French court has heard.
Evelyn Lund, 52, went missing from the home she shared with husband Robert Lund in Albi, France, in December 1999.
Her body was found two years later at Lake Bancalie, 15 miles from her home.
At Mr Lund's third trial for her murder, which he denies, the last woman to see her alive told the jury of Mrs Lund's "hysteria" the day she vanished.
Mrs Lund's friend and fellow British expatriate Marianne Ramsey told the court in Montauban her friend had paid her an unexpected visit on the day she went missing.
Mrs Ramsey, 65, said: "It took a few minutes to even begin to understand what she was saying.
"She explained the reason she was so incredibly upset was she had been at home."
Mrs Ramsey said Mrs Lund had said there had been a "tremendous number of problems" during the festive season and she was "very unhappy".
She added: "She had had two glasses of wine at home, Robert had come into the house and seen her drinking so she ran out of the house because she feared violence."
The court heard how Mrs Ramsey, a retired military police officer, described Mr Lund as "mentally very cruel" towards his wife and said Mrs Lund claimed he had been physically violent to her.
'Cut her fingers'
Mrs Ramsey said Mrs Lund had recounted various incidents in which her husband had been violent, including an occasion when he bruised her ribs by pushing her against a bookcase.
On another occasion, Mrs Lund said her husband had advanced towards her with a knife and cut her across her fingers, jurors were told.
On the day of her disappearance, Mrs Ramsey told the court she eventually calmed down Mrs Lund and suggested they take a siesta.
But she said that by the time she had woken up her friend had left, leaving a note on a piece of kitchen paper reading: "Gone to feed the dogs and cats. Love Evelyn."
Mrs Ramsey said: "I heard nothing until we received a phone call from Robert Lund the next day and he said in a very quiet and unemotional voice, 'I suppose she's still there'.
"And that's when I started to get worried that something was wrong."
Former tree surgeon Mr Lund, 59, from Darwen in Lancashire, maintains his wife's death was a "tragic accident", claiming she had been drinking and must have lost her way while driving home from Mrs Ramsey's house.
On realising her mistake, he suggested she tried to turn around, lost control of the car and ploughed into the water.
Mr Lund has already been tried twice for her murder in the French courts and was granted a second retrial in September.
The trial continues.