Christmas radio show interviews homeless in Lancaster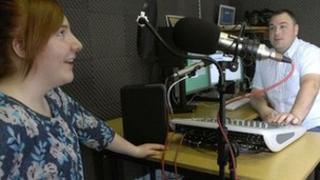 A theatre venue for young people in Lancaster has teamed up with a centre for homeless people to produce a special radio programme for Christmas.
DT3, in Moor Lane, is across the road from the Edward Street centre run by Lancaster and District Homeless Action Service.
Over the past few weeks homeless people have been interviewed about how music has affected and inspired their lives.
They also talked about their typical day on the streets.
The programme will be broadcast in two parts on Lancaster's community radio station, Diversity FM, over Christmas.
The project was led by Dukes creative learning director, Guy Christiansen, who conducted the interviews alongside Shona Thompson, 17, who is in the final year of a work placement at the theatre.
'Hard to watch'
The oldest person she interviewed was a woman in her 50s and the youngest was a 19-year-old man.
She said: "I wanted to do a project that was different to my normal work with young people and that would challenge me so I chose to focus on the homeless centre.
"When we first met up with the homeless people, I took some song lyrics and asked them what they meant to them, which was a good ice breaker.
"We then interviewed them either one-to-one or as a group asking about their life journeys and what it's like to be homeless. For some it was more difficult than others to open up to us. Some of them cried while talking to us which was really hard to watch.
"It has been an eye-opener for me because I now realise why some people become homeless and how many are trying to get their lives back on track."