Robert Lund guilty of killing wife in France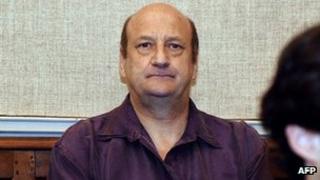 A Lancashire man jailed for killing his wife in France has failed in an appeal to clear his name.
The remains of 52-year-old Evelyn Lund were found in Lake Bancalie, southern France, in 2001.
Herve Renier, representing her family, told the French court that it was impossible Mrs Lund had ended up in the lake as the result of an accident.
Robert Lund, from Darwen, was on trial for a third time for her death. He is currently serving 12 years.
Mr Lund, a former tree surgeon, was originally convicted by a court in Albi in the Tarn area of France in 2007. He was retried in 2009 and jailed for 12 years for a charge similar to manslaughter.
He was appealing against the verdict of his first retrial on a legal point and stood to receive a pay-out from his late wife's life insurance if successful.
Mrs Lund's three daughters, who all came to France for their stepfather's third trial, broke down in tears of relief after Friday's verdict was announced and hugged each other.
Twelve-year ordeal
In a statement read outside court following the verdict, Mrs Lund's brother Gerard Wilkinson, 46, said the family had waited almost 12 years for justice and an end to the "tragic events".
He said: "These have been long, hard years and unfortunately Evelyn's parents did not live to see this final judgment.
"We now hope to be able to put these awful events behind us and finally let the wounds heal and to rebuild and move forward with our lives."
Det Supt Steve Brunskill, of Lancashire Police, said he was "naturally pleased for the family".
He said: "Going through one trial is hard enough but going through three trials must be unbearable and I can't imagine what that is like."
Addressing the jury before they began their deliberations, Mr Renier said the evidence showed it was impossible Mrs Lund had ended up in the lake as the result of an accident.
Her body had been found on the back seat of her car and there was blood on her clothes and the seat.
The blood in the back of the vehicle would not have been there had she died in the driver's seat and floated over into the back once the vehicle was underwater, Mr Renier said.
He told Mr Lund: "I hope that in your prison cell your last dispute with your wife haunts your nightmares."
Mrs Lund, who was originally from Rawtenstall, went missing from the couple's home in December 1999.
Earlier Mrs Lund's brother had sobbed as he told the court of the "enormous strain" her death and subsequent trials had put on the family.
Giving evidence at the court in the French town of Montauban, Mr Wilkinson said: "Evelyn's disappearance, not knowing where she was or what had happened, the discovery of the car and the body in the lake, the long investigation and the three trials, has been very distressing and has placed an enormous strain on all the family."
'Very shocked'
He added: "The third trial brings back all the awful memories again and again.
"In almost 12 years we have not been able to come to terms with this tragedy, we've been unable to grieve properly for Evelyn and we've been unable to get on properly with our lives."
Mr Wilkinson said he had spoken to Mr Lund on the phone shortly after his sister's disappearance and "within three minutes [Mr Lund] moved on to the subject of money," he said.
"I was very shocked with this. He obviously seemed more concerned with money and bills than the fact he had lost his wife and with going to look for her."