Relatives of suffragette Edith Rigby sought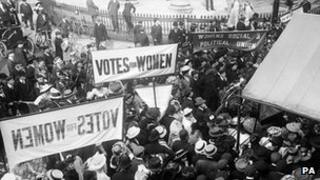 The relatives of suffragette Edith Rigby are being sought by Lancashire Probation Trust because it wants to name a new building after her.
Mrs Rigby, who died in 1948, was a contemporary of the Pankhurst sisters.
She spent some time living in Winckley Square, in Preston, and staff at the trust nominated her as the individual they wanted to name the building after.
But they have not been able to reach any descendants of hers, to ask for their permission.
Assistant chief executive of the Lancashire Probation Trust Geri Byrne-Thompson said: "We have tried a number of routes to reach family members and would like to let them know about the plans before finalising the name of the building.
"Naming the property Edith Rigby House is a popular choice amongst our staff and I think it would be a fitting way to ensure that Edith's name continues in the memory of Prestonians for a long time to come."
Anyone with any information should email or call the Lancashire Probation Service.