Royal Lancaster Infirmary A&E unit improvements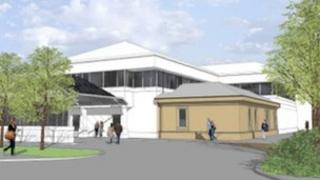 One and a half million pounds is being spent on improving emergency care at a Lancashire hospital.
The money will mean the A&E department at the Royal Lancaster Infirmary will be extended and refurbished to include a new minor injuries unit.
It comes after the University Hospitals of Morecambe Bay NHS Foundation Trust apologised for long delays faced by patients in A&E.
Work is due to start in February and the unit should be open by September.
The hospital trust said the improvements would free up space in the emergency department for more serious cases.
The new unit will have five examination rooms, a waiting area, nurse base and store.
Peter Dyer, medical director, said: "The number of emergency cases we see is rising year on year and, because of this, we have been planning this development for some time to ensure we continue to offer a high standard of emergency care in suitable surroundings.
"We expect that up to 65% of patients attending the emergency department at the Royal Lancaster Infirmary will be streamed through the new minor injuries unit and, as always, treated with the highest standards of care from our dedicated emergency teams.
"Another key benefit is that the new unit will free up examination cubicles designed for treating emergency patients with major trauma."
He added: "We are keen to move forward with our plans as quickly as possible and once the development work is completed we will be in an even stronger position to deliver emergency and urgent care services, reduce waiting times for patients and maximise the skills of our staff."
Steve Vaughan, the trust's director of operations, apologised for patient delays last month.
He said it was trying to alleviate the problem by working with other organisations to relieve pressure on the department.