Three days in France with killer Robert Lund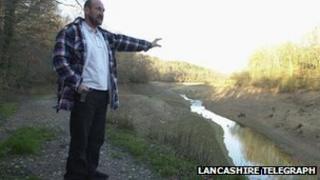 Robert Lund has been convicted for the third time of killing his wife Evelyn in France. Journalist Clare Cook spent three days with him in 2003 - an experience she describes as at times emotional and fraught.
For Ms Cook, the trip to France was her first major assignment as a journalist.
She was sent off with a photographer to track down Lund, a man who was suspected of killing his wife.
The couple had left Lancashire to start a new life in southern France, near the picturesque town of Albi, in 1997.
But the idyllic dream ended in 1999 when Mrs Lund, 52, went missing. Two years later her body was found inside a car hauled from an isolated lake.
Lund was questioned and released over the suspected killing and in 2003 Ms Cook, then 27, was working for the Lancashire Evening Telegraph in Blackburn.
She said: "Because we wanted to get an exclusive story, we wanted to be the first people to go with Robert to the place where the body was found."
Lund told them he had never visited Lake Bancalie, where his wife had been discovered.
But Ms Cook's belief in his claim was shaken when, together with newspaper photographer Neil Johnson, they clambered into Lund's Toyota Land Cruiser and headed off to Lake Bancalie.
'Without hesitation'
The journalists had tried to find the spot the day before but had returned from an unsuccessful journey.
The lake was just too remote and inaccessible for them to locate.
Ms Cook explained: "In the run-up I had asked Robert several times: 'Have you ever been to the place where her body was found?' and he always answered: 'No'.
"Then he drove us straight there without any hesitation."
She added: "It was down a part-tarmacked road that then becomes very rugged. As the path ran on to the right, Robert stopped the car, reversed and took us on to a ledge.
"Just as we went down this ledge it was only then that Neil and I recognised we were actually in the spot.
"He claims he found it from local knowledge, from local hunters and local fisherman, but it is just very difficult to believe."
She said as she quizzed Lund, 59, on what had happened beside Lake Bancalie, he admitted the relationship between him and his wife was not the picture of happiness he had led people to believe.
"He admitted to having quite a violent relationship," she said.
"Then he jumped into the car and performed this three-point turn to act out what he thinks happened.
"The situation was so emotional and so fraught."
Mr Johnson, who is now picture editor at the newspaper now known as the Lancashire Telegraph, said he didn't really know what to expect from Lund.
"On the trip to the lake, we realised there was much more to this, with all the things he said and did," he said.
"The lake is about two miles long and it changes in geographical location. The spot where the car was found was very, very difficult to find."
After the lakeside encounter, the pair returned with Lund to his house, where they ate a rather tense dinner with him, before flying back to the UK the following day.
'Present both sides'
Ms Cook, now a senior lecturer at The University of Central Lancashire, said: "He never tried to hide anything from us and he never resisted too much to me going out to France because he saw it as a chance to clear his name and to facilitate his campaign to prove his innocence.
"I did everything in my power to make Robert Lund admit that he was guilty, but he didn't."
Ms Cook and Mr Johnson have since given evidence in the case at the three trials.
Ms Cook said she was once asked by a judge if she thought Lund was guilty, but said she has always tried to "present both sides and both possibilities."
She said: "I have always tried to maintain a middle ground."
Lund, from Darwen, had claimed his wife must have got lost and driven into the lake by accident - a story rejected at the three trials.
He is set to appeal his conviction a third time, after his lawyers submitted an application to the Cour de Cassation in Paris.