Lindsay Hoyle MP says Japan's BAE rejection a 'real blow' for North West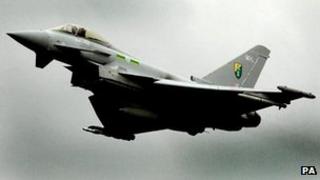 A decision by Japan to buy fighter jets from the US is a "real blow" to the North West, an MP has said.
Lindsay Hoyle, the Labour MP for Chorley, said providing Eurofighter Typhoons to Japan would have helped save jobs at the BAE Systems' plants at Warton and Samlesbury.
Job cuts at the Lancashire plants were announced in September.
A spokesman for BAE said the company was "naturally disappointed" not to have won the contract.
Japan has chosen the US-made F-35 stealth fighter jet to replace its aging F-4s, rather than the Eurofighter Typhoon and Boeing F/A-18 Super Hornet.
Mr Hoyle said the Japanese decision "to buy from the US defence company rather than a British company is a real blow for our region".
'Outstanding capabilities'
"Once again we are seeing the North West being hardest hit; the impact is disproportionate and it is terrible news for families at this time of the year," he said.
The BAE Systems spokesman said the company "respect Japan's decision and look forward to meeting with the Japanese government and the assessment team to discuss the key elements of our bid and the selection process in order to understand the reasons behind the decision".
"With Eurofighter Typhoon, we offered Japan the most advanced and powerful combat aircraft on the world market," he said.
"We are also convinced that the bid we submitted was attractive and competitive, providing a cost effective air defence aircraft with true multi-role capability, as well as a comprehensive industrial participation solution.
"We remain extremely confident in Typhoon's outstanding and operationally proven capabilities and will continue to proactively pursue opportunities around the world."
BAE Systems announced in November that it expected to hear in early 2012 if the Indian government would be placing an order for the Eurofighter Typhoon aircraft.
Mr Hoyle said the Indian deal was crucial to the North West and that he was "engaging with government departments, BAE Systems and the Indian High Commissioner, urging India to buy British".
"I do not want to see any further job losses in our region."