Christmas service promotes peace in Darwen, Lancashire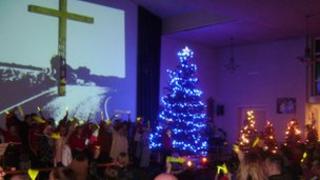 A Christmas service to consider the aftermath of the summer riots has taken place in Darwen.
Parishioners and school children at St James Church in Lower Darwen joined together in unity to help restore lost trust between generations.
Reverend Tim Horrobin, vicar at St James, said events across the UK in August had caused some youngsters and elderly "deep-rooted anxiety".
Both generations were frightened by the violent images they saw on TV, he said.
Mr Horrobin said: "I have been working with the young people, and some of the elderly in church, to start to restore that broken image that happened over the summer months.
"When I was working with the elderly they were saying they are frightened and scared.
"Then young people would tell me that they are frightened and scared and it became obvious they have so much in common."
The vicar said it was not only the disturbances that upset his parishioners.
"There are things they see on our streets and towns that also scare them."
'Great concern'
Sue Cliffe, head teacher at St James Primary School, said the children were unlikely to replicate what they have seen in the riots as "they see themselves as detached from it".
"I don't think they would do what they saw in a million years, but they do look up it with great concern, just as I do," she said.
Around 150 people attended the service, which was called Peace for the Nation.
The church then stayed open for a 24 hour prayer for peace, which was visited throughout the night by parishioners.
Later, school children from all over the area called in to light candles for peace and the Bishop of Blackburn led a concluding service.