PFA boss Gordon Taylor cleared of speeding charges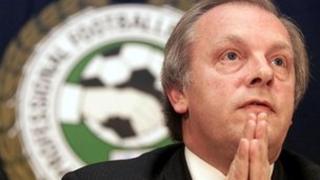 Footballers' trade union boss Gordon Taylor has been cleared of failing to provide police details after two alleged speeding offences.
The chief executive of the Professional Footballers' Association (PFA) did not attend Manchester Magistrates Court.
His lawyer Nick Freeman argued "typographical" errors on police papers meant Mr Taylor had to be cleared.
The court heard a PFA registered Jaguar car was twice caught driving faster than the 30mph limit in Lancashire.
'Wrong address'
The car, registered to the PFA offices in Manchester, was caught by a speed camera doing 36mph on 25 November 2010, and then caught travelling at 43mph on 11 December 2010, both at Osbaldeston, near Blackburn in Lancashire.
But Mr Freeman, the celebrity lawyer known as "Mr Loophole", argued that when the Lancashire Police speed ticket office issued letters asking for the driver's details they made a series of errors.
He said the Jaguar car was registered to the PFA at its offices at 20 Oxford Court in Manchester but the Notice of Intended Prosecution letter, and a reminder, were both sent to number 30 - which does not exist.
The lawyer, known for getting acquittals for celebrity clients in seemingly water-tight court cases, said further letters were then sent directly to Mr Taylor, naming him as the registered keeper directly.
Bernard Begley, prosecuting, said "further enquiries" led the letter to be directed to Mr Taylor but this evidence was deemed to have been submitted too late under legal rules.
Mr Begley asked the bench to adjourn the matter to another date for enquiries to be made or witnesses to be brought to court.
'Inconvenience and expense'
He said: "The criminal justice system is not a game, you are here to acquit the innocent and convict the guilty."
But Mr Freeman said it was the fault of the Crown Prosecution Service and the defence should not "suffer inconvenience and expense" of adjournment to "plug the holes" in the prosecution case.
The prosecution application was refused.
Mr Freeman also said letters about the second alleged speeding offence were sent incorrectly to the "Players" Footballers Association - not the Professional Footballers' Association.
He added: "In each case there has not been a properly addressed letter sent out to Mr Gordon Taylor and you need to be sure that there was before you can convict. He should be acquitted."
Mr Freeman, whose office is in the same street in central Manchester as the PFA, asked for, and was granted, undisclosed costs to pay for the defence case out of taxpayer funds.