Leyland fire costs family firm up to £20m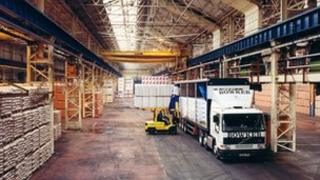 A family firm whose Leyland premises was destroyed in a massive fire estimates the cost of the damage to be up to £20m.
Fire ripped through five buildings on Lancashire Enterprise Business Park on Centurion Way in Leyland on Wednesday.
WH Bowker's warehouse was one of them. Director Neil Bowker described his horror as he watched it go up in smoke.
"I was helpless. We've lost everything the building, all the equipment and all our customers' stock," he said.
'Fanning the flames'
Mr Bowker, 46, got to the scene at about 17:30 GMT on Wednesday a short time after the fire started. The 155,000 sq ft building had been evacuated.
"I could see flames coming through from the neighbours building through to our building and the way the wind was blowing and fanning the flames I knew it was going to destroy our building.
"There was nothing I could do. It was very painful to watch but the main thing is that everyone got out safely."
He described the fire as "a big disaster" for the logistics service provider which was set up in 1919.
"It is dreadful. I am the third generation Bowker and the whole family is gutted and the staff are genuinely concerned about the business, too."
The company, which distributes products throughout the UK, is hoping the impact on customers and staff will be minimal.
'Painless as possible'
It is redeploying staff from the Leyland branch into other areas of the business.
It has found a temporary warehouse elsewhere in Leyland thanks to Lancashire County Council (LCC) , the owner of the business park, which has been helping companies affected.
"It is imperative that we keep up the supply chain. We are trying to make this as painless as possible for our customers.
"They have been very supportive and understanding and so have our staff, too," said Mr Bowker.
WH Bowker which also has offices in Bamber Bridge and Hull is celebrating its 50th year in European distribution.
A spokesman for Lancashire Fire and Rescue Service said three fire engines and an aerial ladder were still at the scene containing the blaze.
Trains are now back to normal and roads have opened.