Donna's Dream House for terminally ill children set on fire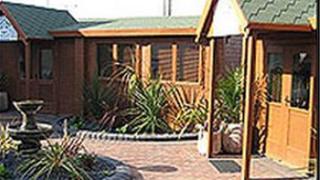 A Blackpool holiday home for terminally ill children has been forced to close after an arson attack on Wednesday.
Burglars broke into Donna's Dream House and then set fire to log cabins in the rear of the building, causing damage costing £80,000, said police.
Founder Len Curtis, who set up the charity in memory of his daughter, Donna, who died at 20, said: "This has ripped the heart out of the charity."
"I pray the perpetrators never need the help we give to special children."
'Despicable' crime
A milkman spotted smoke coming from the courtyard of the Donna's Dream House on Chapel Street and alerted the fire service about 07:00 GMT.
Mr Curtis said: "We would have lost absolutely everything if he hadn't have seen the smoke but even so there is extensive damage to the buildings."
Police said thieves broke into the hot tub cabin then the cabin which was the charity's office. They stole items which included lap tops, a TV and specialist camera equipment and then they set fire to the cabins, police believe to cover their tracks.
Det Sgt Paddy Dowling of Lancashire Police described it as a "despicable" crime.
He said: "The people who did this must have known they were attacking a local charity which helps terminally ill children."
Mr Curtis said: "I am sickened by this and my wife is absolutely devastated.
"We don't get any government grants and we rely purely on donations from the public so it is hard enough for the charity without something like this happening.
'Up in smoke'
"We have insurance but there are so many momentos that can never be replaced up in smoke; an award from the Queen, specialist equipment and photographs of Donna.
He is hoping to come across photos of Donna among the debris.
A family due to stay at Donna's Dream House over Christmas has had to make other arrangements for the festive period. The doors will be closed until 3 January.
The log cabins which feature a cinema, hot tubs and the charity's office was funded by donations from scrap dealer Gary Eastwood who worked with the charity while he was taking part in Channel 4's Secret Millionaire.
Mr Curtis said: "Gary is absolutely appalled. He has the same dream as me - and like me says Donna's Dream House can't die."
They said they were examining CCTV for evidence and urged anyone with information to come forward.
Blackpool Council has been helping with the clean-up operation.
"The council has really helped and so have individuals. One person came in and handed over a £1,000 cheque."
He added: "This charity does mean a lot to the residents and visitors to Blackpool."