Ormskirk robber's 'hand grenade' warning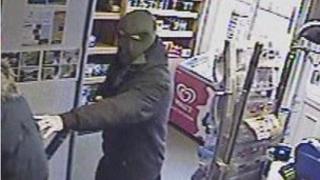 A robber claimed he had a hand grenade as he threatened staff and customers at a post office in Ormskirk.
The masked raider shoved shoppers out of the way as he headed to the counter at Long Lane Post Office on Holborn Hill.
He demanded £1,000 before fleeing with cash towards Colinmander Gardens on Wednesday afternoon.
Detective Sergeant Tracey Robinson said: "This was a particularly distressing incident for all involved."
She urged anyone who might recognise the offender or who thinks they may have seen this man at around the time of the robbery to come forward.