Calum Burdon, boy with Niemann-Pick disease, dies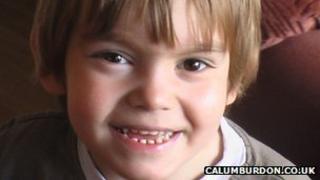 A seven-year-old Lancashire boy with an incurable rare genetic condition has died.
Calum Burdon, from Freckleton, who was diagnosed with Niemann-Pick type C disease just before his second birthday, died on Monday.
His condition deteriorated after getting a chest infection on 22 December. Twenty-five family members held a vigil at his house.
His father Carl said: "He's going to be very sadly missed."
'Campaign for Calum'
He added: "He was a fighter and he fought right to the end."
Calum and his family have raised more than £50,000 for research into the condition with Campaign for Calum charity.
His funeral will be at 13:30 GMT on Tuesday at Lytham crematorium.
Mr Burdon said he had been overwhelmed by the messages he and his wife Emma had received in response to the news of Calum's death.
"It seems Calum has endeared himself to such a lot of people," he said.
"When we say goodbye to him on Tuesday I believe he will be inundated with people there."
Calum was a snooker fan and three-times world champion John Higgins would pay him visits when he got his cue repaired by cue doctor Kevin Muncaster, who is from Freckleton.
Sports presenter Andy Goldstein arranged for Calum to go to Disney World in May through the Hopes and Dreams charity.
According to the Niemann-Pick Disease Foundation, there are just 500 cases of the disease diagnosed worldwide.