MBE honour for Longridge lollipop lady Irene Reid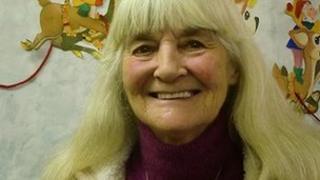 Lancashire's longest-serving lollipop lady has been appointed an MBE in the Queen's New Year Honours list.
Irene Reid, 71, has been a school crossing patrol officer for Longridge C of E Primary School for over 40 years.
She said: "People say I deserve a medal but I didn't expect to get one."
Rodney Aldridge, sponsor of Darwen Aldridge Community Academy has been knighted and Amanda Thompson, managing director of Blackpool's Pleasure Beach has become an OBE.
'I'm gobsmacked'
Mrs Reid, who was recognised for services to road safety, said her job was "brilliant".
She said: "I feel like I'm getting an award for something I've loved doing for 43 years. I'm gobsmacked.
"It's got to the stage where I've been doing the job for so long, I feel like I'm part of Berry Lane, like a lamp-post."
Mrs Reid has also been involved with the Longridge Youth and Community Centre for many years and works with older children doing crafts, drama and artistic projects.
As Lancashire's longest-serving lollipop lady she has featured in the media on many occasions and in 2003 was awarded the title Lollipop Lady of the Year in a national competition.
Winifred McGeorge, 81, from Burnley, has also been appointed an MBE for services to social housing.
She has worked as a volunteer for 40 years, including working with the the town's largest housing association for the past decade.
She said: "It's an honour but I don't think it's just for me. So many other people in this town have worked hard to make Burnley's houses liveable, especially my husband.
"I think it's for all of them."
Elsewhere in Lancashire, consultant midwife Sheena Byrom was appointed OBE for services to nursing and Andrew Williamson, the Football League's chief operating officer, was appointed OBE for services to football.
Among those to be made an MBE were Special Inspector Peter Kellet for services to the police; Ian Robertson for services to enterprise; the Reverend Andrew Shaw for services to the community in Fleetwood and Margaret Vinten for voluntary service to Derian House Children's Hospice in Chorley.