Call for Lancashire cockle bed restrictions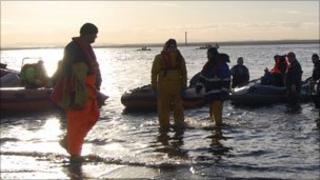 Lancashire fishermen should be given priority access to cockle beds in the Ribble estuary, a council cabinet member has said.
Tommy Threlfall, cabinet member for environment at Fylde Council, wants fishing authorities to review safety in the area.
His call comes after Foulnaze Bank beds were closed over concern inexperienced fishermen were putting people at risk.
He said Lancashire fishermen depend on the estuary.
The Foulnaze beds were shut in November only two months after reopening for the first time in 22 years.
Coastguards had been called out 26 times amid concerns over safety.
Mr Threlfall said: "Everybody with a bathtub wanted to harvest our cockles.
"We were, in September and October, very fortunate that we didn't take any fatalities on our estuary.
"Our great concern over that led us to want to establish a working plan so that we can manage the safe and successful harvesting of cockles on the Ribble estuary."
During the time cockle beds were open, more than 6,000 tons of cockles, worth £4m, were taken off them.
Mr Threlfall added: "We are focused on our local, bona fide fishermen as opposed to just letting everybody and anybody visit our cockle beds.
"We want to discuss some of the changes so we can make a management plan, obviously safety is our main issue."
He is now calling on the North West Inshore Fisheries and Conservation Authority (NWIFCA) to look at reviewing the way the beds are managed.