Councils want urgent sea wall repairs in Blackpool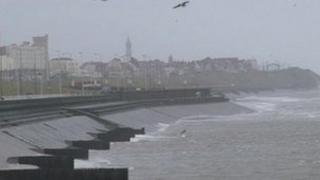 Urgent repair work is needed to shore up the failing sea defences in Lancashire, councillors have said.
Work was completed on a stretch of the coastal defences between Blackpool's North and South Piers last year.
Further north, the sea walls at Anchorsholme and Wyre are in need of emergency repairs.
Blackpool and Wyre councils are putting together a proposal to improve the defences which will be considered by the Environment Agency in March.
In Anchorsholme, a new 1km (0.6 mile) length of sea wall is needed and in Rossall a 1.9km (1.18 mile) length of coastal defence needs rebuilding.
The proposals are separate but will be considered at the same time.
The councils are jointly searching for contractors for the two schemes.
Councillor Tony Williams, from Blackpool Council, said: "The engineers have reported quite recently that the defence walls we have here now have a five-year shelf life.
"We want the walls reinstated. A lot of these properties here are under threat.
"The fear is that it will erode, this coastline will erode, these people's homes and businesses will be affected, drastically affected."
The new sea defences built to protect Blackpool's Golden Mile from flooding won an engineering award last year.