Clean-up starts at Blackpool's Donna's Dream House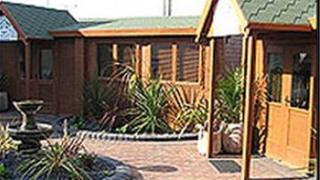 A clean-up operation is under way at a Blackpool holiday home for terminally ill children, which was set on fire, after an influx of donations.
Burglars broke into Donna's Dream House and set fire to log cabins on 23 December, causing £80,000 damage.
Len Curtis, who set the charity up in memory of his late daughter, said he could still "carry on her legacy" after the fire forced the home to close.
"It is all hands on deck now because of people's generosity," he said.
Mr Curtis and his wife Barbara feared the blaze could signal the end of Donna's Dream House after 16 years.
"We were totally devastated," he said.
'Get cracking'
However, they are hoping to "make it even bigger and better than before" and accommodate families by February.
"The response has been phenomenal. We have been inundated with people offering to help - from elderly ladies offering to put rubber gloves on and clean to companies who have offered their services - and donations sent in from all over the world."
He added: "It means we can get cracking with rebuilding the two log cabins which were completely destroyed in the fire straight away and not have to wait for the insurance company to settle.
"Hopefully we can reopen Donna's Dream House to families by February, although facilities will be limited.
"We will actually be able to have security and safety measures in place to prevent this happening again such as sprinkler systems and security shutters."
Inmates at Kirkham Prison, who have done substantial work at the charity home, are lending their help too. They are planning to help set up a temporary office for the charity.
'Despicable' crime
A milkman spotted smoke coming from the courtyard of the holiday home on 23 December and alerted the fire service.
Mr Curtis said: "We would have lost absolutely everything if he hadn't seen the smoke but even so there is extensive damage to the buildings."
Police said thieves broke into the hot tub cabin, then the cabin which was the charity's office. They stole items which included laptops, a TV and specialist camera equipment and then they set fire to the cabins.
Det Sgt Paddy Dowling, of Lancashire Police, described it as a "despicable" crime.
He said: "The people who did this must have known they were attacking a local charity which helps terminally ill children."
The log cabins, which feature a cinema, hot tubs and the charity's office, were funded by scrap dealer Gary Eastwood, who worked with the charity while he was taking part in Channel 4's Secret Millionaire.