Calls to improve Blackburn to Bolton train service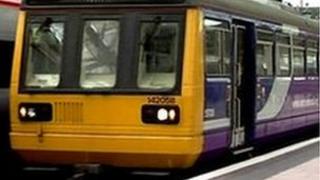 MPs from opposing parties are uniting to call for an improved train service between Blackburn and Bolton in a debate in the House of Commons.
Labour Blackburn MP Jack Straw and Conservative Darwen and Rossendale MP Jake Berry are backing plans to double some track which links the towns.
There was "blatant demand" for the work said Mr Straw. Mr Berry said it was "vital" for east Lancashire.
Network Rail's initial estimate for the proposed work is £15m.
'Jam-packed'
The former Justice Secretary Jack Straw said they wanted to increase the hourly daytime service between Blackburn and Bolton to every half hour.
He said: "The problem is there are too many passengers for the service. The rush hours are absolutely jam-packed.
"Because of the single-line track for most of the way between the two towns, it is impossible for Network Rail and Northern Rail, who run the service between them, to increase the service to a greater frequency except in the peaks.
Mr Berry said: "It is vital to improve our public transport links to Greater Manchester.
'Key to prosperity'
"It is key to our prosperity in our area for people living here and to compete with places in south Manchester in encouraging high earners to move to the area and commute to Manchester."
Conservative Ribble Valley MP Nigel Evans is also backing the campaign but he cannot speak at the debate because he is Deputy Speaker.
Blackburn with Darwen Council has commissioned Network Rail to carry out a feasibility study looking at improving capacity on the line. It is due to be presented to the council in the summer or autumn.
A spokesman for Network Rail said: "Network Rail believes that it would be possible to double the off-peak train frequency and improve the overall performance without impacting on the current situation, by extending the existing loop at Darwen station."
There would also need to be an upgrade to the level crossing at Turton which has a 15mph speed restriction for trains.