Council's plans to better manage cocklers in Ribble Estuary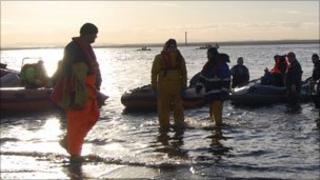 Fylde Borough Council has said it is working on a plan to better manage cockling in the Ribble Estuary.
The council will meet the North West Inshore Fisheries and Conservation Authority (IFCA) on Monday to discuss plans for when the beds reopen.
They were closed in November because of safety fears, after rescues of ill-equipped and inexperienced cocklers.
Lifeboat crews had been called out more than 20 times in the two months before the beds were closed.
At the meeting at Fylde Town Hall, Tommy Threlfall, cabinet member for the environment will ask Dr Stephen Atkins, IFCA chief executive, for a new management plan to ensure a more orderly approach to cockling when the activity resumes later this year.
Mr Threlfall will request the granting of a smaller number of licences - about 30 - to allow better policing of cockling.
He said: "Up to 400 people were cockling last year. Issuing a smaller number of licences will mean that their activities can be managed better in the interests of nearby residents, safety and fishery conservation."
He added that the plan should also include "more stringent checks" to make sure the cockles being harvested are the minimum size of 20mm.
"Extreme pressure was put on the cockling stocks - and also on the lifeboat crews - so that the long-term sustainability of cockle stocks was jeopardised," he said.
"Having fewer cocklers, combined with better policing of their activities and of the size of cockles they take, will mean more regular opening of the fishery - rather than it having to close for decades at a time due to overfishing."