Go-ahead for £50m Burnley Bridge Business Park project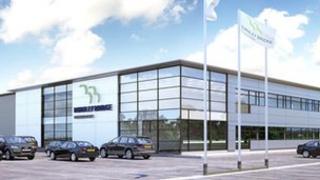 A £50m Lancashire business park project hit by budget cuts to regional development agencies is now going ahead due to a European grant.
Work on a new canal bridge at Burnley Bridge Business Park will start in the spring after £3.85m was secured from the European Regional Development Fund.
Developers Eshton said without the funding to construct the bridge the project would be unable to proceed.
The grant gave it the "green light", the company's managing director said.
'All systems go'
James Chapman said: "Overall, the development will create up to 1,400 new jobs."
He added: "The jobs created will be in the construction and occupation. [It] will have major social and economic benefits for the East Lancashire region."
The construction of the bridge over the Leeds-Liverpool canal at the entrance of the business park was one of the projects affected when the government made £52m worth of cuts to the Regional Development Agencies in July 2010.
In the original plans, the bridge had been earmarked for £3.85m of funding from the North West Regional Development Agency (NWDA) as well as the European funding of £3.85m.
After scaling back the bridge plans and acquiring the European grant, Mr Chapman said it was "all systems go".
"We can now start work in earnest at Burnley Bridge and attract quality occupiers to a quality site.
"Contrary to what people might expect, many companies are doing well in the area despite the economic challenges."
He added: "Some of the local manufacturers are consolidating space and smaller firms need to move to new premises."
Leader of Burnley Council Charlie Briggs said: "It shows what can be achieved even in these difficult economic times when the private and public sector work together with a common goal."
Steve Rumbelow, the chief executive of Burnley Borough Council, said: "Burnley Bridge is well located and will provide state-of-the-art facilities in which ambitious companies can thrive."
The 70-acre Burnley Bridge Business Park is located on the former Hepworth's site at Pollard Moor on the outskirts of Hapton and Padiham.