500-year-old church, St. James' at Altham, may close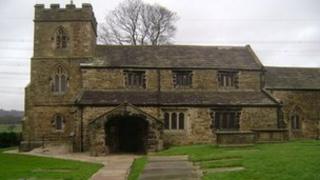 The vicar of a Lancashire church, which is celebrating its 500th birthday, has said he fears for its future because of shrinking congregations.
Church leaders at St. James' at Altham hope their year-long celebrations will encourage more people to visit the church and boost congregations.
The church is one of the most historic and picturesque in the Blackburn diocese.
But the Reverend John Tranter said that was not enough to secure its future.
He said: "Our Sunday congregation now is somewhere between 25 to 30 people and this place is not sustainable for another 500 years on those numbers."
Mr Tranter said he is worried about the long-term future of the church. He said: "We are not under immediate threat, but it costs us around £450 to £500 a week to keep this church going and for a congregation of around 30 people that is a big ask."
The origins of the sacred site are unclear, with some believing it to be Saxon. The first record of a church on the site is in 1140 though the exact date is unknown, though Mr Tranter believes it is in the reign of King Stephen.
Popular wedding venue
"We know this church was dedicated in 1512 and again we don't know exactly when which is why we have planned a quincentennial year of celebration rather than focussing on one particular day," he said.
The church faced closure in 1973 when the amount of repairs needed at St. James was such that it took support from a public meeting in Altham to keep it open.
Again in the eighties, parishioners had to raise £50,000 to stop its closure.
Treasurer Les Moore explained it was insufficient footings and foundations that threatened the building.
He said: "The church tower was sinking and pulling the church down. At the time we were given the option of closing the church but one or two of us said 'no way', so we set about raising the money."
The church was under-pinned and is now stable.
Mr Moore described the church as "a spiritual home".
He said: "You walk down the path and the tension drops out of your shoulders. As you get near the church that peace just comes over you. It's a wonderful, wonderful feeling every Sunday morning."
The picturesque beauty of St. James is also helping to pay the bills, as a popular wedding venue during the summer months.
"But we really could do with people from the local community getting involved in the life and work and prayer of the church," said Mr Tranter. "We can then provide a Christian basis for worship and care for the community for another 500 years."
Joe Wilson presents the faith programme on BBC Radio Lancashire from 06:00 each Sunday.