Thornton fish and chip shop is top UK chippy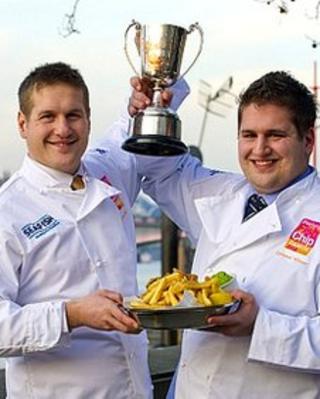 A Lancashire chippy which opened six years ago has been named Britain's Fish and Chip Shop of the Year.
Seniors in Thornton, which is run by brothers Alistair and Dominic Horabin, received the award at a ceremony in London on Tuesday.
The shop came third last year and its Lytham branch has also come close.
"It's something we've never done before, we are delighted - we are also the youngest winners," said 26-year-old Alistair Horabin.
He added: "It's an honour beyond our wildest dreams."
'Brilliant chip shop'
Awards presenter and TV chef Richard Corrigan said: "Combining heritage with innovation, skill with approach, attention to detail with great produce, Seniors well deserve their title of the UK's best fish and chip takeaway. A brilliant execution."
The family bought its first chip shop in Blackpool in 2000 when the brothers' father retired as a fish merchant where he had supplied chip shops across the North West.
Their Blackpool shop had been a chippy since 1927 but they decided to expand into neighbouring Lytham and Thornton.
All three places have licensed restaurants as well as a takeaway counter.
The National Fish and Chip Shop Awards is promoted by Seafish, the quango responsible for the seafood industry.
Ten chip shops were shortlisted, after visits by mystery diners, with Hanbury's in Babbacombe, Devon, coming second and Quayside in Whitby coming third.
The Thornton shop was also a finalist in the Independent Restaurant of the Year and Good Catch categories.