Preston College opens new £5m performing arts academy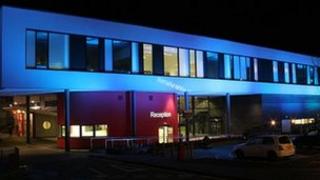 A Lancashire college has officially opened a new £5m visual and performing arts academy.
Preston College's new building, which stands at the entrance to the Fulwood campus, was opened by head of BBC North, Peter Salmon.
The new academy is home to students on programmes from dance and drama to photography, textiles and music, and includes a 100-seat theatre.
Mr Salmon said he was "incredibly impressed" with the facilities.
He said: "At a time when colleges and universities are facing a difficult and challenging environment it's great to see investment and confidence in the future.
"I'm incredibly impressed with the performance and production facilities here at Preston College but equally with the enthusiasm and passion of everyone I've met here."
Dr Lis Smith, principal and chief executive of the college, said: "It's good to have aspirations about what you want to do, but what you will get here are practical skills as well."