Heysham firm's £1m flame fountain sculpture for Azerbaijan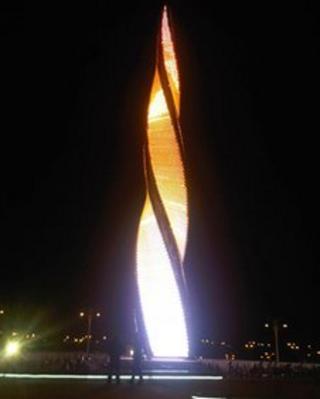 An engineering company from north Lancashire has built a £1m metal sculpture for the president of Azerbaijan.
TP Aspinall and Sons from Heysham completed the flame fountain in time for the birthday of president Ilham Aliyev last month.
The 100ft (30m) sculpture was taken 3,000 miles (4,800km) to the capital Baku in 10 lorries.
Director Simon Aspinall said the 10-day journey had been "a mammoth trip".
He said: "Time was that tight that every last bit didn't make the trucks, so we had to send a guy by air with excess baggage of 21 suitcases."
The stainless steel structure has a triple-helix design, is clad in glass and features light and water. It stands in a large fountain pool.
Mr Aspinall said the contract was important to the company which had reduced its workforce from 120 employees to 40 in recent years.
He said: "We've been very busy on the project since July and it has really kept us busy."
He added that he hoped the contract would lead to more business as Baku is hosting this year's Eurovision Song Contest.