Wild chickens captured on Banks housing estate in Lancashire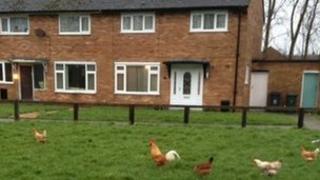 A brood of chickens which were living wild on a housing estate have been moved after residents claimed early-morning crowing was waking them up.
The birds had multiplied since a few were first released by a farmer in Banks, in Southport, Lancashire, several years ago.
More than 30 were captured on Wednesday evening by police, council volunteers and local residents.
They were rounded up at dusk and moved to new pens in Beacon County Park.
Mark Thomas, Lancashire police's wildlife crime officer, said early each morning about 10 cockerels would begin crowing and he would receive calls from residents in the Aveling Drive area "pleading for help".
He added: "Some have newborn children and being woken up at 4am or 5am by the birds has been a great frustration.
"Also the excrement from the birds under a roosting tree was horrendous and the smell was very unpleasant."
Mr Thomas said the birds' new home was "more suitable to their needs" and a location where they would "no longer cause problems for the residents".