Lt Col Sharon Stewart to receive Royal Red Cross Medal for nursing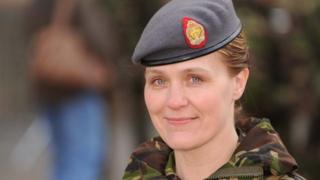 A nurse from Lancashire, who spent four months serving at a military hospital in Afghanistan, is to be presented with one of nursing's top honours.
Lt Col Sharon Stewart, from Sowerby, has been singled out for her efforts in making Afghans feel less isolated at the British military hospital where she served with the Territorial Army in 2011.
She will be presented with the Associate Royal Red Cross Medal by the Queen.
The medal is given to nurses who display "exceptional services, devotion to duty and professional competence in British military nursing".
Lt Col Stewart, a reservist for the TA's 207 Manchester Field Hospital (Volunteers), trained to be a nurse at Blackpool's Victoria hospital in the 1990s and spent four months last year at Camp Bastion in Helmand Province.
'Compassion and care'
She was on call 24 hours a day, seven days a week, in the hospital which treats not only soldiers, but the Afghan army and local people - including children and suspected insurgents.
"When I first got there it was difficult," she said. "I'm a human being, I can't help but think about people who've done awful things, but they were a patient and they got exactly the same care and attention for their wounds as anybody else.
"It wasn't for me to judge what they'd done."
The medal was first awarded to Florence Nightingale in 1883 for her services in the Crimean War.
Afghanistan was not Lt Col Stewart's first tour of duty for the TA, having served for three months in Iraq in 2004.
"You just got on with it, and really tried to do your best for them and hope that some of the compassion and care that you show them might rub off," she said.
Part of a team
"We were seeing horrific injuries - lots of amputations, gunshot wounds, burns and head injuries," she said. "Some patients were very young. Often they would just grab your hand and want to chat.
"They'd want to offload what they'd been through. They are quite scared after what they've seen."
As a mother-of-three, she found it difficult to deal with her emotions when it came to treating children.
"I've never seen a dead child before and we had several children that didn't make it," she said.
"Being with a child who's dying was one of the things that really did affect me.
"The mothers just aren't allowed to go to the hospital with the children, it's usually a male or the village elder, so thinking about how that mother must have been feeling when she finally heard, I just can't imagine."
In spite of being honoured personally with the award, Lt Col Stewart said she was very much part of a team.
"Without the team, none of it is possible," she said. "My team were constantly looking at ways in which we could make things better.
"It's always about the guy on the stretcher."