Cuerdale hoard to go on display for Preston Guild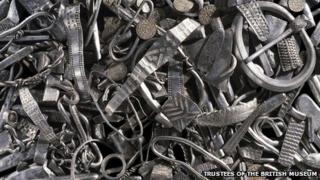 Some of the items found in Lancashire's largest Viking hoard will go on display in Preston as part of the city's Guild year celebrations.
Silver ingots and jewellery from the Cuerdale hoard will be exhibited in the new history gallery at the Harris Museum and Art Gallery in the summer.
They are part of the largest silver Viking hoard ever found outside Russia.
Thousands of pieces were discovered by men working on an embankment of the river Ribble in 1840.
Emma Heslewood, the curator of history at the museum, said: "The story has it, the men filled their pockets with silver and as they were dashing off, some agent of the local landlord stopped them.
"It was soon confiscated and declared treasure for the Crown and it became known as the greatest treasure ever found."
The Preston Guild has been held every 20 years since King Henry II granted the town the right to have a Guild Merchant - or market town status - in 1179.
It is the only Guild celebration still held in the UK.