Blackpool Zoo workers Russell Catlow and Mike Fielding retire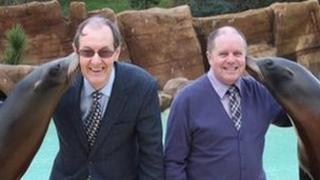 The two longest-serving staff members of a zoo in Lancashire will retire later following a combined 80 years' service.
Assistant director Russell Catlow and zoo vet Mike Fielding have both been involved with Blackpool Zoo since it opened 40 years ago.
They have seen the zoo evolve from one that housed a handful of species to one that now has more than 1,500 animals.
Mr Catlow said he was "proud" of his time there.
He said: "I feel very privileged to have had such a long and rewarding career here and can honestly say that there hasn't been one day that I have not relished the idea of coming into work."
Originally a trainee camel keeper, he worked his way up the ranks at the zoo. Mr Fielding had previously run a veterinary practice near the park and was approached by management before the zoo opened in 1972.
'Learning curve'
Mr Fielding said: "If I were to start my career over again I know that I would end up in exactly the same place and my job has evolved into my hobby.
"My job has been a continuous learning curve and I have been honoured to have worked with zoo vets from across the globe to update and improve procedures that protect endangered species and contribute to conservation projects."
Mr Catlow said one outstanding memory was when he was working with the elephants as a keeper.
He said. "I was just about to finish work for the day when Kate, who came here as an infant when the zoo opened, decided to teach me a lesson and wee all over me. I wouldn't imagine that many people can count that as a workplace memory."
Darren Webster, managing director at the zoo, said it would be "very emotional" to see them leave.
"Their combined knowledge of the zoo, along with their almost tangible passion for the animals means we are losing two fantastic assets," he said.