Freckleton house fire: Mother appeals for witnesses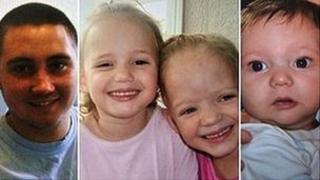 The mother of four siblings killed in a house fire in Lancashire said the family has been left "devastated".
Reece Smith, 19, four-year-old twins Holly and Ella Smith and two-year-old Jordan Smith all died in the fire in Freckleton on 7 January.
Police believe the fire was started deliberately and are treating the deaths as murder.
In a statement at a press conference, their mother, Michelle Smith, said they "had so much more life to live".
She said: "Our whole family has been devastated by a fire that took away four of our treasured children.
"Reece wanted to be an engineer working on aircraft and was a huge Blackpool fan, but overall was a loving son and brother and grandson.
'Beautiful children'
"The twins Holly and Ella - who were only four years old- were like chalk and cheese and had their own little characters and personalities.
"Jordan was the baby of the family; he was only two years old but he made us laugh so much and was always bumping into things so we nick-named him Banger.
"All four of them had so much more life to live. We now find ourselves lost without them and have to continue our lives knowing that they, and we, have missed out on so much.
"These four beautiful children died in a fire which was started deliberately in the wardrobe. We can't understand why anyone would do such a thing and how they can sleep at night with the guilt."
Ms Smith appealed to witnesses to "think of our loss" and "come forward and explain to the police what you did or what you know".
Det Supt Dermott Horrigan said police "do not believe this was an accident".
Mr Horrigan said that whoever started the fire "may well have confided in someone close to them".
"We believe somebody inside the house on the night of the fire holds the answer to what happened," he said.
"It is important that misplaced loyalties do not get in the way of somebody coming forward and telling us what they know, as even the smallest piece of information could prove crucial."
He said the deaths were being treated as murders and that detectives were "working on a number of lines of inquiry to establish exactly what happened that night".
An 18-year-old man was arrested on suspicion of murder in January, but was bailed pending further inquiries.
A picture of the wardrobe where the fire is believed to have been started has also been released.