Christian charities say 'growing demand' for help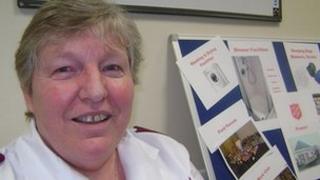 Christian charities in Preston have said there is a growing demand for their help as the economic situation bites into family finances.
They claim increased unemployment and reduced benefits have resulted in more clients asking for their help.
The Salvation Army in the city has seen the number of food parcels it issues quadruple in the last year.
Preston Christian Action Network claims demand for its services will continue to rise over the next couple of years.
Greg Smith from the network said: "I think it is going to get worse over the next year or two because the economy is in such a state and the cuts are coming in.
"The Salvation Army used to give out 30 food parcels a month, now they are regularly giving out 130."
Major Carole Babstock from the Salvation Army said the recipients are from all walks of life.
She said: "It is really hard not to get upset about men who come in tears because they have lost their job. They have used their money to pay their bills or finish their mortgage and now they have no money for food.
'Saved my life'
"They say to us they thought they would never have to do this, but for their children's sake they do it. If it was for their own sake I don't think they would do it."
This week charities in the city came together at the Central Methodist Church in Lune Street to offer each other support and to publicise the work they do.
They say it is not only job losses that cause people to ask for help.
Gavin Harrison is a recovering alcoholic who works for Emmaus Preston and is clear about the importance of the help he has received.
"If it wasn't for Emmaus I would be dead," he said. "They have saved my life."
Emmaus is a community for people to regain a foothold in life and, providing they keep to the charity's rules, residents can stay as long as they like.
Gavin travelled from Cambridge to Preston to join Emmaus and his story is typical of ones they regularly hear at their Ribbleton Lane base.
"I had a good job, a good life, a wife, a couple of kids and a grandchild," he said. "I lost all that through drink. If Emmaus hadn't taken me in I would be out on the streets and probably dead."
'Getting worse'
There are similar stories at the Fox Street Community in the city centre where demand is exceeding supply.
Fox Street offers a relatively quick programme of help designed to return their clients, better prepared, into the outside community.
Director Geoff Tyson said: "The money we are getting to rent in the private sector is becoming less and less and people are finding it more difficult."
Katie Oakridge, from the centre, added: "There's a lack of permanent accommodation out there, so we end up having people for longer rather than being able to move them out. Therefore, we aren't able to help as many people."
Greg Smith from the Preston Christian Network says the situation is not getting any easier.
He said: "We are coming across more people who are unemployed. Two or three of the churches are now doing work clubs to support people to get work, to give them social support and practical things to help them.
"There's quite a take up for that and yes, things are getting worse."
Joe Wilson presents the faith programme on BBC Radio Lancashire from 06:00 each Sunday.