Paul McBride suffocated baby son Ollie in Preston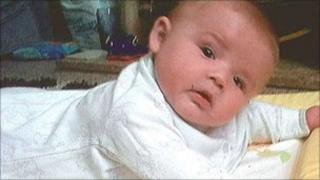 A father suffocated his six-month-old son before killing himself at a house in Lancashire, an inquest has heard.
Ollie McBride was found suffocated at his father's house in Preston on 14 September. His father Paul McBride, 39, was found hanged at the address.
The inquest heard McBride, who worked as a taxi driver, had broken up with the child's mother a short time before.
Preston's deputy coroner Simon Jones recorded verdicts that McBride took his own life and unlawfully killed his son.
The inquest was told Ollie's mother, Michaela Swain, had secured a non-molestation order following the end of their "turbulent relationship".
McBride was late returning Ollie to her on 14 September, and she alerted police at about 16:00 BST.
Her child's body was then discovered by family members at an address in Marl Hill Crescent, Ribbleton, along with the body of his father.
Serious case review
Nearby were two hand-written notes from the taxi driver addressed to his brother. One of these was written on the back of a court order obtained by Ms Swain.
Mr Jones said: "The notes make it clear that Mr McBride was intending to take his own life and that of his son, against the background of the difficulties in the relationship.
"He took the decision so that, in his own words, 'they could both be together'."
McBride was found dead in soaking wet clothes.
Pathologist Brian Rogers told the hearing: "I think Paul got into the bath with baby Ollie and suffocated him at some stage while they were in the bath. But he did not drown the baby."
There were no obvious signs of injury to the youngster's body, he added.
A serious case review is under way which will review the role of all agencies involved in the case.
Nigel Burke, chair of the Lancashire Safeguarding Children Board, said: "We considered the circumstances of this baby's tragic death and decided that a serious case review should be commissioned to review agency involvement with the family.
"The review process is still under way."