Jane Clough campaign: Bail law changes backed by House of Lords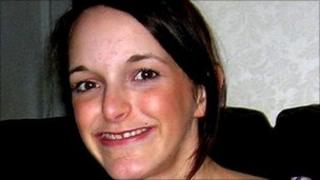 The House of Lords has backed changes to the bail laws following a campaign by the parents of the murdered Lancashire nurse Jane Clough.
The amendment allows prosecutors to appeal against a crown court judge's bail ruling at the High Court.
Miss Clough, 26, was stabbed by her former partner Jonathan Vass. He was on bail accused of raping her.
Her parents, Penny and John, were in the House to see the law being backed, without a vote, by all sides.
Last month, the prime minister signalled the government would support the change to the Legal Aid, Sentencing and Punishment of Offenders Bill.
Ms Clough's parents said then they were "delighted" by the decision.
Standing ovation
Mr Clough said: "It's time a defendant's right to freedom was superseded by the victim's right to safety. That's all we're asking for."
Deputy Lords leader Lord McNally said peers were effectively approving "Jane's law".
"Our conclusion was that without calling into question the correctness of decisions made by the crown court judges in the vast majority of cases, it is not right that such decisions should be beyond challenge," he said.
"We are persuaded of the case for changing the law in order to ensure that victims and their families and the public at large are protected."
For the opposition, Lord Beecham said that if peers were given to standing ovations they would have given one to Ms Clough's parents for their efforts to get the law changed.
He said every so often "tragic incidents" led to legal changes and the "brutal murder" of Ms Clough was one such occasion.
Mr and Mrs Clough had come to the House to "see the culmination not only of their pain, but their campaign" he said.
Lord Beecham acknowledged: "There will never be any guarantee that whether bail is granted in a magistrates' court or a higher court, the person granted bail will not commit an offence."
But he said the prosecution should be able to take the matter to a higher court for determination and offer a better prospect of avoiding a "repetition of this dreadful incident".
Ms Clough's parents have said they believe their daughter would still be alive if the Crown Prosecution Service had had the right to challenge bail decisions in 2010.
She was stabbed 71 times by Vass outside Blackpool Victoria Hospital in July 2010.
Vass, from Preston, pleaded guilty to murder and was jailed for life with a minimum term of 30 years in October 2010.
The rape charges were ordered to lie on file.