Two people arrested over Rawtenstall town centre death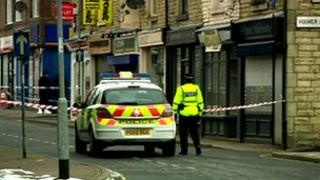 Two people have been arrested over the death of a man found in a Lancashire town centre on Saturday.
The man, believed to be aged 18, was discovered at 03:15 GMT on Kay Street in Rawtenstall.
A post-mortem examination has failed to reveal the cause of death and police are currently treating it as "unexplained".
A Lancashire Police spokesman said: "The post-mortem examination of the dead man was inconclusive."
The dead man has been identified by police who have yet to make his identity public.