Vince Cable not doing enough to help BAE, says Tory MP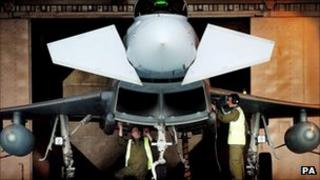 A Lancashire Tory MP says Business Secretary Vince Cable has not lobbied enough to save the sale of BAE Systems' Eurofighter jets to India.
BAE was hoping to partly assemble the 126 Typhoon jets at Warton and Samlesbury.
Fylde MP Mark Menzies said he had tabled questions to the Department of Business over the bid's backing.
Last week, India's government said it planned to buy less expensive Rafale jets from French company Dassault.
'Responsible for exports'
Although the Indian government has said it is in final talks with Dassault, BAE Systems said it had not been officially notified of the development.
The Typhoon is built by the German and Spanish branches of European aerospace giant EADS, Britain's BAE Systems and Italy's Finmeccanica with Germany taking the lead in the consortium of countries trying to sell it.
"I tabled a question to the Department of Business Innovation and Skills asking what they are doing - because they are ultimately responsible for exports - and it became clear that the secretary of state for business has not met with his counterparts so I will be asking for him to use his full authority to do so," said Mr Menzies.
He added that Mr Cable needed to do more.
BAE Systems announced plans to cut 1,400 jobs in Lancashire and up to 900 at Brough in East Yorkshire in September.
Two trade trips
However, the firm said in January that more than half the 1,400 jobs under threat at BAE Systems in Lancashire had been cut without compulsory redundancies.
The Eurofighter lost out in December on an $8bn deal to supply jets to Japan.
The Department for Business said that ministers have been involved at a number of levels.
It said Mr Cable had been personally involved in discussions with his Indian counterparts, including two trade trips over the past few months.