Venus and Cupid fund may lead to Morecambe arts trust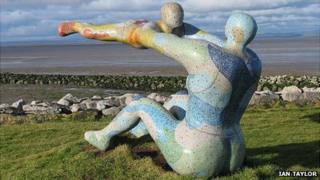 The saving of a Lancashire statue from destruction could lead to an arts trust being set up in the area.
Artist Shane Johnstone had threatened to take apart his statue Love, The Most Beautiful Of Absolute Disasters after Morecambe council refused to buy it.
However, local resident Sian Johnson persuaded him to keep it intact with a proposal for an arts trust.
She said once the sculpture was secured by the trust, "we're going do projects right across Morecambe and Heysham".
The future of the sculpture, known locally as Venus and Cupid, had been in the balance since the town council voted not to purchase it for £10,000 from Mr Johnstone in 2011.
Mr Johnstone, who gained permission from the council to place it at Scalestones Point in 2005, said public support had made him change his mind about destroying it.
"People love it. There's dozens of sculptures along the promenade and two that get talked about - Eric Morecambe and my sculpture," he said.
'A broader thing'
Mrs Johnson, who previously collected a 1,000 signature petition to save the "inspiring" statue, said she had to step in when she heard the threat.
"My husband and I went over to Shane and said: 'You really mustn't get the bulldozers out'," she said.
"We told him that we had a plan to set up a trust to raise money and put in bids.
"That built up through discussion to a broader thing, a Morecambe arts trust that went beyond saving the statue."
She said it may take "a couple of years or a few months" to set up the trust, but that people had "already been offering money".
"Once we have the sculpture secured, we're going to go on and do more projects right across Morecambe and Heysham," she said.
She added the trust would be "positive" for Morecambe.
"The town ought to be doing a lot more for the arts - there's a big cluster of arts activity here," she said.
"There's 600 organisations involved in the arts in our district, which makes us a bit of an arts city."