Colin Hendry's daughter launches e-petition over cosmetic surgery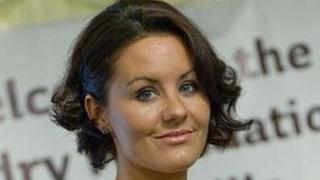 The daughter of Denise Hendry, who died from complications after cosmetic surgery, is calling for tighter regulations governing operations.
Mrs Hendry, who was married to ex-Blackburn Rovers player Colin Hendry, died in 2009 after liposuction surgery.
Her daughter Rheagan, 22, has now opened an e-petition calling on parliament to review regulations.
If the petition is signed by 100,000 people it could lead to a House of Commons debate.
Mrs Hendry, who lived in Lytham St Annes, Lancashire, suffered a punctured bowel during the procedure at the private Broughton Park Hospital, Preston, in April 2002.
'Reckless and careless'
She had several operations to correct the damage but never fully recovered and died in July 2009, aged 43.
Her husband Colin, who played for Rangers, Blackburn Rovers and Bolton Wanderers, has said he is disgusted at the doctor who carried out the procedure.
Dr Gustaf Aniansson is still practising in his native Sweden.
Speaking last year, Mr Hendry said Dr Aniansson was "reckless and careless" during the operation on his wife.
"I can't believe he is still working in this industry," he said.
Dr Aniansson is listed as practising plastic surgery, at the Nacka Hospital in Stockholm.
Sweden's Department of Health said it was aware of Mr Aniansson's actions in the UK and was looking into it.
Speaking about her campaign, Ms Hendry said there were many situations involving cosmetic surgery "that are deemed quite dangerous".
"We really need to look at those and think well, our younger generation are getting scooped up in this world and before you know it I think we're going to see more risks," she said.
"What we want to see is tighter regulations in the access to the voluntary cosmetic surgery in younger people, we are looking for a higher age limit for having the surgery."