Army hopeful Anthony Caulton from Preston hits weight target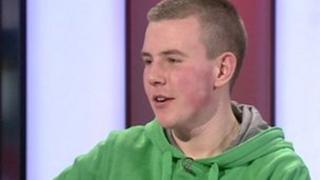 A teenager from Preston has been told he can apply to join the Army after he lost almost half his body weight.
When 18-year-old Anthony Caulton walked into an Army recruitment office last year, he weighed 21 stone (133 kg) and was sent away.
Told to lose more than eight stone (53 kg) and change his lifestyle, he turned to fruit, veg and exercise for the first time in his life.
Nine months later, Mr Caulton has been told he is eligible to apply.
A year ago, the teenager lived on a diet of junk food and his weight had ballooned to more than 20 stone.
"It were just crisps and pop what really did it for me," he said.
"There's a heck of a lot of calories in them but that's all it were really. And no exercise at all."
'Granny Smiths'
Set a target weight of 80kg by an Army careers officer in Preston, Mr Caulton joined a gym, took up boxing and began to regularly eat fruit and vegetables.
"I'd never eaten it before," he claimed.
"The only way I would have it were drinking orange juice or something like that. I weren't brought up on it, you know what I mean."
He added: "Granny Smith apples - I actually like them now, I've been having them every day.
"And brown bread too - I took some persuading, but I've got there."
A spokesman for the Army in the North West said that, when Mr Caulton first came to them, he was outside the required body mass index (BMI).
"We are delighted that he has been successful with his weight loss and is coming back in the very near future with his application," he said.
Mr Caulton said he was now looking forward to a career in the British Army.
"As soon I realised that I can work towards the Army and achieve a good standard of fitness, I thought I had a good chance here.
"It's all paid off."