Religious leaders urge all faiths to join Preston Passion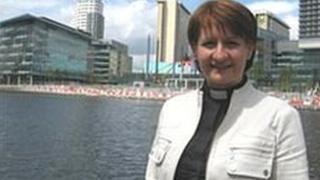 A leading Sikh in Preston is urging all faiths to join in the religious centrepiece of the city's Guild celebrations.
The Preston Passion will be staged around the bus station and will include live performance, music and drama.
The Passion is expected to include around 3,000 participants and will be shown live on BBC One on Good Friday.
Preston Sikh leader, Gulab Singh, said it is a great opportunity for all sections of faith to work together.
He said: "When I look at the scale of this and see the Passion needs around 3,000 people, I think this is a fantastic challenge for the city.
"Preston has a diverse set of people from all walks of life. I am sure the Passion is going to attract the same"
The production will feature television's Fern Britton and M People singer Heather Small who will appear alongside choirs, dancers, performers and local people of all ages to interpret the historic events of Holy Week.
'Very exciting'
Christian leaders are also anxious to show off the city in a good light.
The Vicar of Preston, Canon Timothy Lipscomb, said: "I think the BBC have been very ambitious and very honest their explanation in what they are trying to achieve.
"I hope the people of Preston will respond by singing, acting and doing all the things they are being asked to do."
The Archdeacon of Lancaster, the Venerable Michael Everitt, said he could see parallels in a large outside production in Preston and the events, over 2,000 years ago, in Jerusalem.
He said: "I think it is very exciting. When Jesus was crucified it was outside of the city walls and it was very much a public event that everyone was involved in.
"This is something we should not lock away in churches and remember that for Christians, God is involved in the entire world."
The Reverend Hayley Matthews, chaplain to Media City in Salford, said she wants the whole of Preston to embrace the production.
"It's the fact they have opened up all of the parts to the whole of the community," she said. "And that the story of Easter is going to have such a wide exposure, it's really exciting."
Gulab Singh said it is a tenant of most faiths to support others in their beliefs and that means being part of the Preston Passion.
"One of the key principles of my faith, Sikhism, is honour and respect of all religions," he said. "You can only do that through tolerance and linking in with all faiths."
Joe Wilson presents the faith programme on BBC Radio Lancashire from 06:00 each Sunday.