Sculptor inspired by Lancashire cotton mills unveiled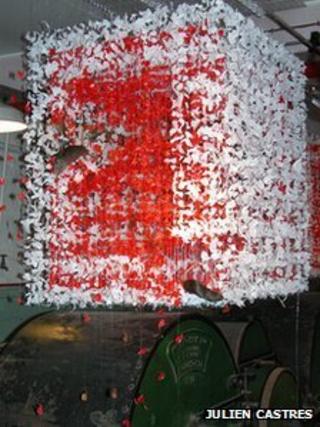 A work of art inspired by Lancashire's cotton mills has been unveiled at Helmshore Mills Textile Museum.
No Match was created by sculptor Claire Morgan and commissioned by Mid Pennine Arts.
Museum manager Louise Jacobsson described the installation as a "stunning piece".
She said: "The sculpture has a different take on the history and heritage of the mills and the processes that went on in the industry."
As part of her research for the piece, Ms Morgan spent a week at the museum meeting local people who worked in the mills or whose family worked in them.
The artist said: "My idea for No Match came from my fascination with all the complex, repetitive, and really quite aggressive processes that occurred in the Devil Hole at Helmshore Mills."
The installation is suspended over the six cylinder devil machine which was used to break down cotton waste in working mills.
The work is called No Match because no matches were allowed near the machine because it was prone to catching fire.
The exhibition will run until 31 October.