Pendle council tax frozen for fifth year running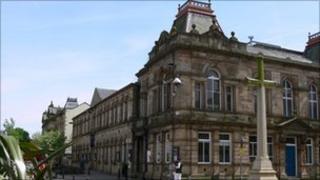 Councillors in Pendle have agreed to freeze council tax for the fifth year running.
The Lancashire council agreed the freeze at a meeting to set the budget for 2012/13, on Thursday.
It also voted to continue the free bulky household waste collection service for residents and keep the tourist centre at Boundary Mill open.
Council leader Mike Blomeley said he was happy they had avoided making large-scale compulsory redundancies.
The council had planned to make 76 people redundant, largely as a result of cuts in government funding.
'Sustain services'
But that number was reduced to 23 through deleting vacant posts, retirements, voluntary redundancies, job shares and flexible working arrangements.
Mr Blomeley said: "This is the fifth time in five years that the council has frozen council tax.
"It will be very good news for residents as we know these are tough times for them.
"We do face very tough times and we'll be making savings whilst using sound financial management to sustain services for local people," he added.
The council is also gearing up to face an even harder job next year when the government's transition grant will be withdrawn.
"This is a significant part of our grant and we're likely to lose £2m - that's 25% of our core funding," he said.
"That's why we'll work together across all parties to lobby the government to keep this grant.
"We'll carry on fighting because this money is important for Pendle."